GdS AIM: Defects of diecasting components: Metallization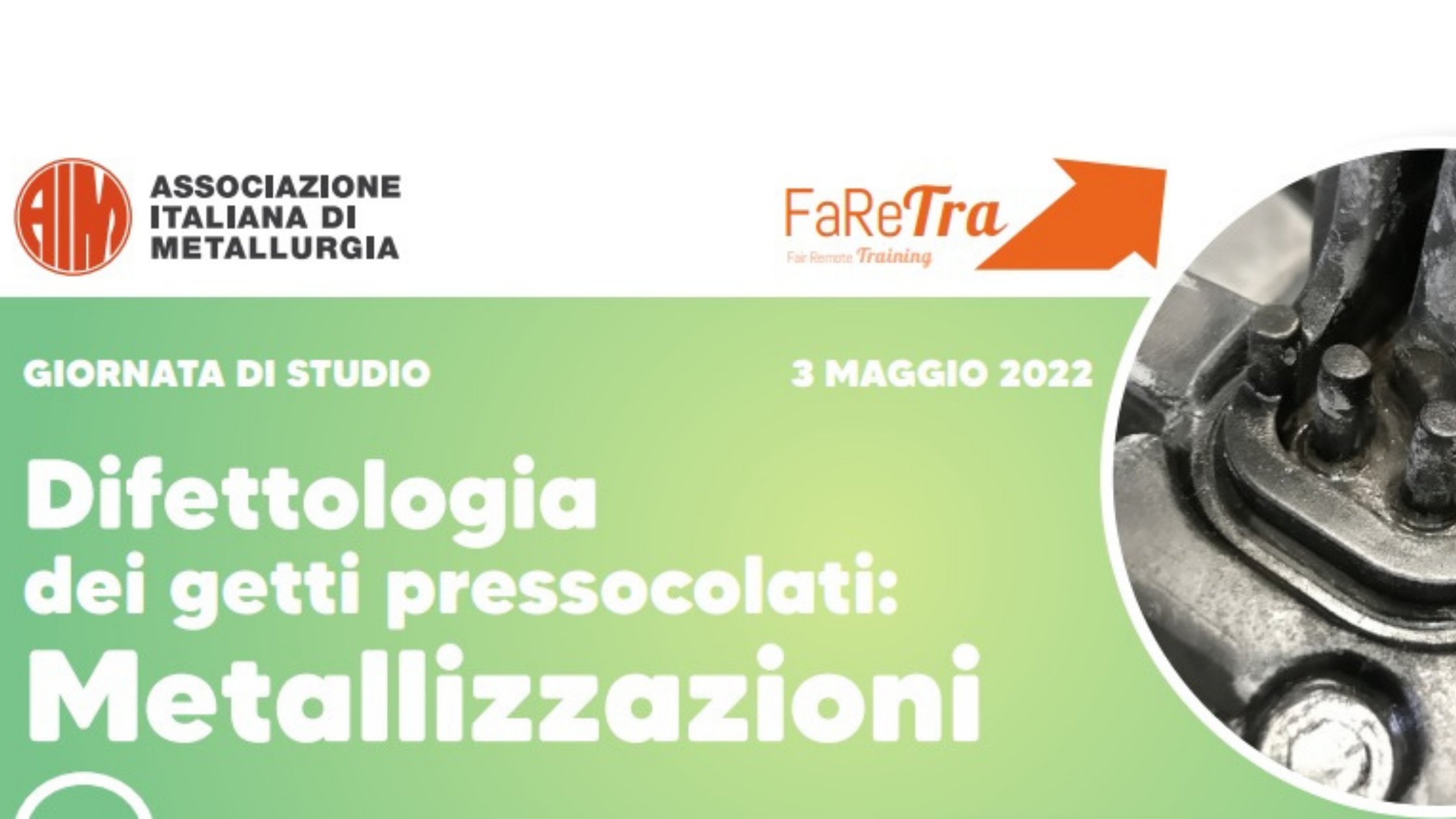 GdS AIM: Defects of diecasting components: Metallization

3 May 2022 - 3 May 2022
9:00 - 12:30 am - Online
11:00 hrs
The casting simulation to predict and solve the defect
Speaker: Ing. Cristian Viscardi, Technical manager of Ecotre Valente Srl
This Study Day, organized by the Diecasting Study Center, is part of a cycle of days that aim to analyze the various defects that can occur in diecastings, thus offering ideas for optimizing the quality of the product. .
After the first day dedicated to gas porosities, the topic covered in this second webinar concerns metallizations.
Metallizations are damages attributable to the metal-mold interaction which manifest themselves as micro-welds between the injected alloy and the matrix and which, upon extraction of the piece, cause a tear in the welding joint, with consequent damage to both the mold that of the cast.
The causes of this defect can be many: inadequate speed during filling, excessive local temperature of the mold, use of an inappropriate or incorrectly applied lubricant, non-optimal mold material.
Even if the defect on the die-cast component can often be recovered with finishing operations, on the contrary for the mold, due to the cyclical nature of the process, it can induce a deterioration gradually greater, entailing the need for expensive interventions. It is therefore preferable to identify the causes immediately and evaluate effective remedial actions. For this reason, it is first of all fundamental to know the correct genesis of the phenomenon of metallizations and therefore to understand what are the parameters that can favor its formation, so as to be able to make the appropriate choices during the design phase of the mold and production of the piece that allow to contrast or at least contain the problem.
Coordinator of the Study Day:
Prof. Annalisa Pola – University of Brescia
How to use
Live streaming webinar (synchronous mode):
The support platform used will be Zoom, compatible with all major operating systems (PC, MAC, Linux, iOS and Android).
Detailed instructions on how to connect and participate will be sent by email directly to the member once registration is complete.
Recordings (asynchronous mode):
The video presentations, reserved exclusively for subscribers, will be uploaded to the AIM YouTube channel. The participant who requests registration will have access to the videos, without viewing restrictions, for 15 days from receiving the link. You will be able to access the videos with a Google account, from all devices.
For information and registration: info@aimnet.it
Download the PDF brochure
If you wish, you can download the PDF version of the event information brochure. To register, you can fill out the registration form attached to the brochure or fill out the electronic form here in the margin.