QuikCAST and ProCAST Software Benefits
Quality improvement
Optimization and saving in the design
Improvement of production
Enhanced precision
Flexibility of use
Reduction of calculation times
Reduction of production rejects
Saves money
Thixocasting, rheocasting and SSR: What it is
Thixocasting and rheocasting processes produce high-quality castings with filling of metal both in the semi-solid state and starting from slurry, combining the benefits of conventional foundry techniques with those of forging.
Lower temperatures and greater viscosity of the alloy allow for more uniform filling of the mould with less entrapment of gas and therefore less porosity.
Thixocasting, rheocasting and SSR simulation: How it works
Simulation of the semi-solid, semi liquid, SSR casting process in die casting with and without vacuum: this technology has recently come back to light thanks to the application of disposable cores in die casting. Die casting cannot be applied to castings with undercuts which require the use of disposable cores, as in low pressure and gravity processes.
The semi-solid has allowed for the introduction of salt and ceramic cores in the die casting cell. ProCAST computes the mechanical loads, the deformations due to the impact of aluminum in the core during injection and therefore knows whether the core breaks or remains intact.
ProCAST is the most advanced Rheocasting-Thixocasting-SSR simulation software. It offers a complete suite of modules and foundry tools to meet all of today's industrial requirements. Based on the powerful finite element technology (FEM), ProCAST allows performing predictive evaluations of the entire process of the casting, including filling and solidification defects, mechanical properties and the complex distortion of the part. It allows you to quickly view the effects of design modifications and provides a basis for a correct decision-making process, from the initial production stages. ProCAST can model all casting processes of all pourable alloys, and also addresses other important production processes of the foundry, such as core shooting and heat treatment.
QuikCAST is a fast and efficient solution for complete process evaluation. The software addresses the main principles of any casting process: filling, solidification and porosity prediction including the core shooter and semi-solid modelling. QuikCAST has been designed to help the user cut costs and reduce time to market. It can be used in an initial stage to develop the mould and the process and to assess the quality of the molten piece.
For the purchase, hire or a DEMO of the software or if you want to take advantage of a simulation service specially-made by our technical department, write or call us at +39 030 3365383
MECHANICAL FEATURES
DEFECTS
CO-DESIGN
MATERIAL
PROCESS PARAMETERS
EQUIPMENT
CELL
SOFTWARE PERFORMANCE
MECHANICAL FEATURES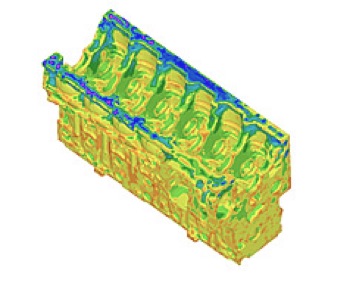 ELONGATION
The software can provide the elongation % map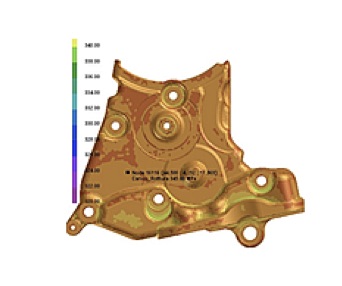 ULTIMATE TENSILE STRENGTH
The simulator provides the map of the Ultimate Tensile Strength of the Component "As Cast" and after Heat Treatment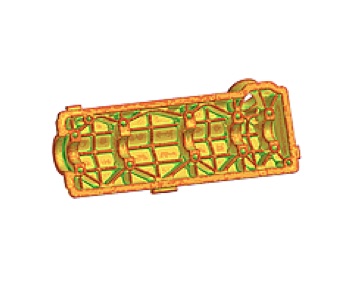 YIELD STRESS
The simulator provides the map of the Yield Stress of the Unfinished Component and after Heat Treatment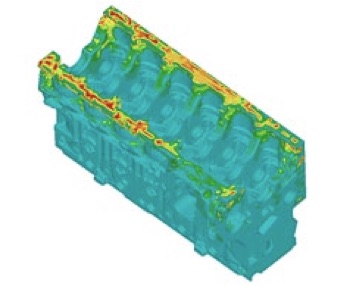 HARDNESS
The simulation can indicate the Hardness that can be obtained and its profile through its thickness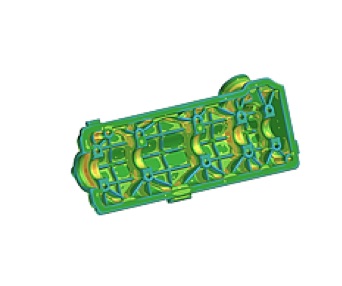 SDAS
The casting simulator shows the map of the SDAS (Secondary Dendrite Arm Spacing), a useful indicator of component performance
DEFECTS
CO-DESIGN
MATERIAL
PROCESS PARAMETERS
EQUIPMENT
CELL
SOFTWARE PERFORMANCE