QuikCAST and ProCAST Software Benefits
Quality improvement
Optimization and saving in the design
Improvement of production
Enhanced precision
Flexibility of use
Reduction of calculation times
Reduction of production rejects
Saves money
Liquid Forging: What it is
The liquid forging process is a light alloys melting method that entails application of a very high pressure on material in the liquid state during solidification, thus bringing the metal from the liquid state of the solid state of the desired shape. Cycle times are shorter and there is a structural integrity without porosity and rejects and an excellent microstructure due to the rapid solidification of the metal
Liquid Forging Simulation: How it works
Simulation of forging in the solidification stage of the alloy poured in the liquid state: during solidification simulation, the progress of the solid part is calculated and used to predict shrinkage positions, taking into account application of the pressure as in a forging process.
The main challenge of the simulation software suitable for liquid forging is that of being able to accurately represent filling of the mould, its solidification and the cooling behaviour of a forged liquid part. This prevents wasting material and time during production, helps in reducing or eliminating changes to the equipment, thus considerably saving energy and the costs of materials and tools.
ProCAST's liquid forging simulation process provides an accurate representation of the entire process, including functions to analyse the filling behaviour of the molten metal, the effect of backpressure due to intake systems, solidification and the formation of shrinkage porosity.
The benefits of the liquid forging simulation are improved workpiece quality, a reduced development stage, saving energy, material and equipment costs, a simulation process design and streamlining tool that helps develop the best conditions suitable for production in real-time.
Simulation is an efficient solution for the technical challenges posed by the new market opportunities that this hybrid process creates.
For the purchase, hire or a DEMO of the software or if you want to take advantage of a simulation service specially-made by our technical department, write or call us at +39 030 3365383
MECHANICAL FEATURES
DEFECTS
CO-DESIGN
MATERIAL
PROCESS PARAMETERS
EQUIPMENT
CELL
SOFTWARE PERFORMANCE
MECHANICAL FEATURES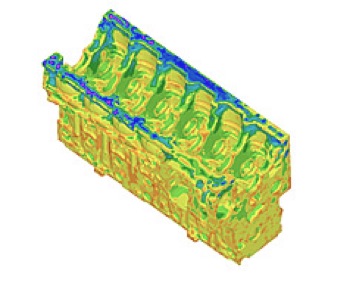 ELONGATION
The software can provide the elongation % map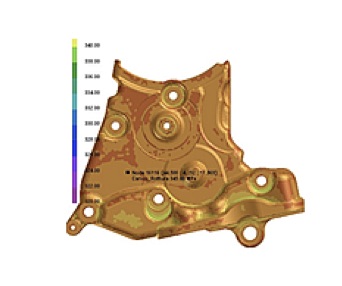 ULTIMATE TENSILE STRENGTH
The simulator provides the map of the Ultimate Tensile Strength of the Component "As Cast" and after Heat Treatment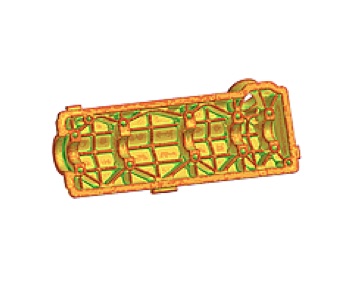 YIELD STRESS
The simulator provides the map of the Yield Stress of the Unfinished Component and after Heat Treatment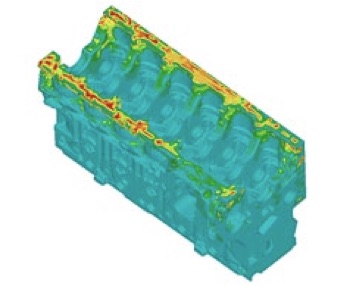 HARDNESS
The simulation can indicate the Hardness that can be obtained and its profile through its thickness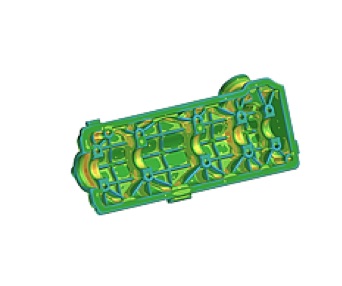 SDAS
The casting simulator shows the map of the SDAS (Secondary Dendrite Arm Spacing), a useful indicator of component performance
DEFECTS
CO-DESIGN
MATERIAL
PROCESS PARAMETERS
EQUIPMENT
CELL
SOFTWARE PERFORMANCE