QuikCAST and ProCAST Software Benefits
Quality improvement
Optimization and saving in the design
Improvement of production
Enhanced precision
Flexibility of use
Reduction of calculation times
Reduction of production rejects
Saves money
Melting in sand gravity, also called in earth, is a process in which the liquid metal is poured into a form made of a particular foundry sand mixed with binders and specific additives. After the metal has cooled, the form is destroyed (shake-out) and, to eliminate the core, namely the sand form that generates the hollow section in the castings, one proceeds with desanding, therefore removing the sprue, spout and uprights, eliminating burrs and any superficial imperfections and scales and then the casting can be sent to subsequent processes, treatments and controls.
Complete simulation from small to large castings in cast iron, steel, aluminum, magnesium. With and without mobile buffer.
Non-ferrous gravity sand casting simulation
The QuikCAST and ProCAST sand gravity simulation software allows you to model the complete casting process: from the creation of the mould to the introduction of the metal by gravitational force. The best possible conditions can be met to obtain a healthy and virtually flawless product. The software has a very nice and easy-to-use graphical interface, requiring little effort from personnel: the program guides the user step-by-step in importing geometries, selecting materials and setting process parameters.
The key to success in a gravity sand casting foundry is optimizing the gating system and eliminating the risk of shrinkage porosity. ProCAST sand gravity simulation software allows comprehensive modelling of any gravity sand casting process, including high-pressure moulding lines. It enables users to study the effects of feeder locations, filters, chills, insulation & exothermic sleeves on the casting process and quality. Different aspects, including filling, solidification and residual stresses can also be studied.
78KG WITH MOLECULAR TIGHTNESS – FROM THE PAPER TO THE WORKPIECE IN 30 DAYS
CASE STUDY: Fonderia Morini, European leader in the foundry sector, is specialised in the production of aluminum and aluminum alloy casts with sand-casting technology, supported by the "Fonderia Morini Divisione Conchiglia srl".
Ferrous Sand Gravity Simulation

Gravity Sand Casting Ferrous Simulation
The standard porosity model of ProCAST also accounts for the effect of the expansion of cast iron during solidification and mould rigidity, which allows or restricts this expansion. A more comprehensive approach consists of running coupled, thermal microstructure and porosity calculations, including inoculation. The microstructure solver computes the evolution of different phases and predicts local density variations, which provide more realistic porosity results. Specific microstructure models exist for different cast irons.
HIGHEST QUALITY CAST IRON CASTINGS WITH ProCAST: the IRONCASTING case
Production of a joint in GJS 500-7 weighing approximately 41kg, inside our 1100 x 900 x 700 bracket
It is a matter of time. Cast iron casting simulation software allows you to expand or compress it: ton castings that take days, to give just one example, can be reduced and evaluated in a few minutes; steps of a few thousandths become analysable in hundreds of seconds. But the time factor today is also the key to the diffusion process of these production process simulation programs.
What customers say about QuikCAST and ProCAST:
QuikCAST and ProCAST gravity sand casting simulation software are accurate, fast and simple.
For the purchase, hire or a DEMO of the software or if you want to take advantage of a simulation service specially-made by our technical department, write or call us at +39 030 3365383
MECHANICAL FEATURES
DEFECTS
CO-DESIGN
MATERIAL
PROCESS PARAMETERS
EQUIPMENT
CELL
SOFTWARE PERFORMANCE
MECHANICAL FEATURES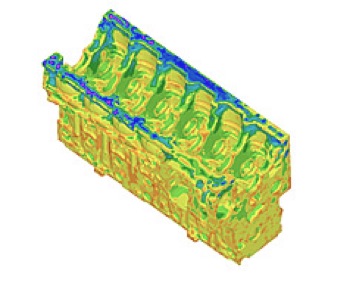 ELONGATION
The software can provide the elongation % map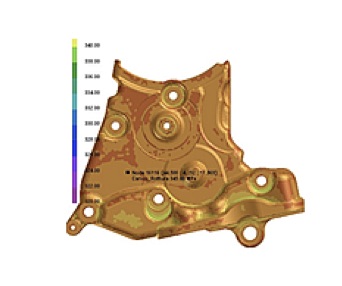 ULTIMATE TENSILE STRENGTH
The simulator provides the map of the Ultimate Tensile Strength of the Component "As Cast" and after Heat Treatment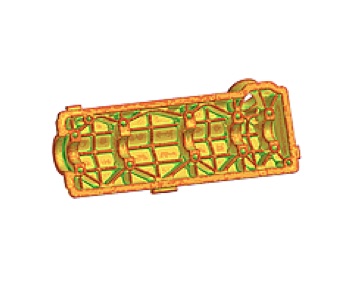 YIELD STRESS
The simulator provides the map of the Yield Stress of the Unfinished Component and after Heat Treatment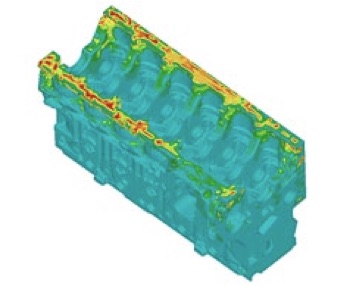 HARDNESS
The simulation can indicate the Hardness that can be obtained and its profile through its thickness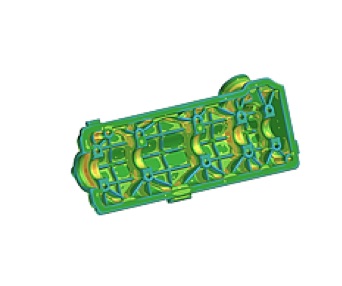 SDAS
The casting simulator shows the map of the SDAS (Secondary Dendrite Arm Spacing), a useful indicator of component performance
DEFECTS
CO-DESIGN
MATERIAL
PROCESS PARAMETERS
EQUIPMENT
CELL
SOFTWARE PERFORMANCE