QuikCAST and ProCAST Software Benefit
Quality improvement
Optimization and saving in the design
Improvement of production
Enhanced precision
Flexibility of use
Reduction of calculation times
Reduction of production rejects
Saves money
Vacuum High Pressure Die Casting: What it is
During the die casting process, the air present and the gases produced are hard to exhaust completely. This leads to producing pieces with porosity and therefore less mechanical strength. Thanks to vacuum systems, the pressure inside the form can be reduced so as to extract air and gas and to improve filling of the pieces.
Vacuum High Pressure Die Casting Simulation: How it works
The complete simulation shows the forced evacuation of gases with the vacuum system and intake unit both Chill-block and valve. During filling there are two fluids in competition, the incoming alloy and the outgoing air. The problem arises when the alloy encapsulates air. QuikCAST and ProCAST software can be interfaced with the latest vacuum technologies, and can therefore control the evacuation curves of gases in phase with the injection curve.
The calculations of air backpressure together with adequate pressure conditions defined by the user make it possible to simulate vacuum melting processes.
Thanks to the QuikCAST and ProCAST vacuum high pressure die casting simulation software programs, the best possible conditions can be met to obtain a healthy and virtually flawless product. The software has a very nice and easy-to-use graphical interface, requiring little effort from personnel: the program guides the user step-by-step in importing geometries, selecting materials and setting process parameters.
Just one thermodynamic calculator of the materials database allows the user to directly enter the chemical composition of the alloy and to automatically predict the properties depending on the temperature necessary to precisely simulate the casting process.
During simulation of solidification, the evolution of the solid part is calculated and used to predict shrinkage positions.
The vacuum process, the porosity of the gas due to non-dissolved hydrogen, stresses in casting, the stress released in the removal of the die and from the ejection of the part and the life of the die itself can all be predicted so as to reduce costs of production and performance of the part in use.
For the purchase, hire or a DEMO of the software or if you want to take advantage of a simulation service specially-made by our technical department, write or call us at +39 030 3365383
MECHANICAL FEATURES
DEFECTS
CO-DESIGN
MATERIAL
PROCESS PARAMETERS
EQUIPMENT
CELL
SOFTWARE PERFORMANCE
MECHANICAL FEATURES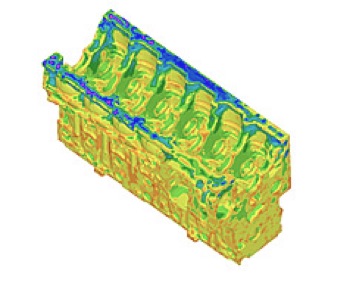 ELONGATION
The software can provide the elongation % map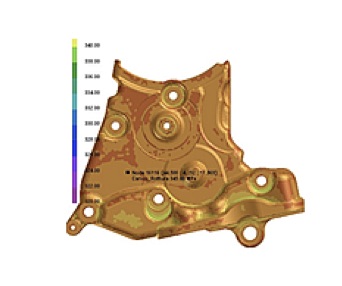 ULTIMATE TENSILE STRENGTH
The simulator provides the map of the Ultimate Tensile Strength of the Component "As Cast" and after Heat Treatment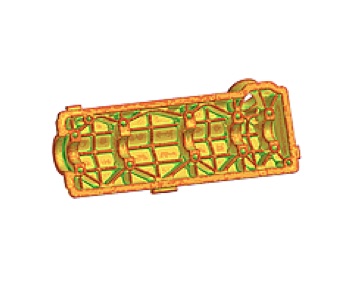 YIELD STRESS
The simulator provides the map of the Yield Stress of the Unfinished Component and after Heat Treatment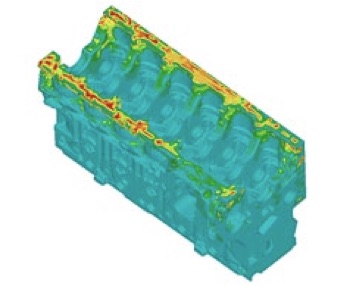 HARDNESS
The simulation can indicate the Hardness that can be obtained and its profile through its thickness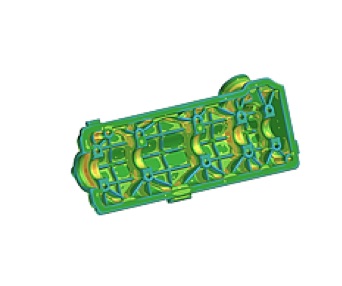 SDAS
The casting simulator shows the map of the SDAS (Secondary Dendrite Arm Spacing), a useful indicator of component performance
DEFECTS
CO-DESIGN
MATERIAL
PROCESS PARAMETERS
EQUIPMENT
CELL
SOFTWARE PERFORMANCE